ZEBRA Partnership Announces New E-Bus Commitments from Manufacturers and Investors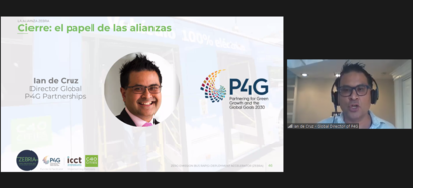 December 10, 2020 — P4G partnership Zero Emission Bus Rapid-deployment Accelerator announced commitments from top e-bus manufacturers and investors for innovative financing models to accelerate an e-bus transition in Latin America. The vast majority of commitments were made by Chinese manufacturers, and the ZEBRA partnership asked European and US manufacturers to join this electric mobility alliance as soon as possible.
Monica Araya, the transport lead for the UNFCCC COP26 Climate Champions, opened the event by sharing her support for ZEBRA's achievements and expanded on the Race to Zero campaign. She stressed the importance of collaboration between cities, investors, manufacturers and fleets to achieve these ambitious goals at speed and scale. ZEBRA also garnered praise from Roberto Capuano, Director of Metrobus, for the partnership's assistance in a new Mexican law eliminating tariffs on the import of electric motor vehicles.  
The event presented clear asks from manufacturers and a path forward for investors. Manufacturers pointed out that while they have the buses and the clients, the next step was getting credit guarantees from governments. During a discussion on investor risks, Asymetric Return Capital (ARC) representatives stepped in with the missive that the market is ready for this type of investment and innovative models like the ones they are working on can mitigate risk to encourage other investors to crowd in. Representatives from Mexico expressed a strong desire to make a shift to Mexican domestic e-bus manufacturing, while Chile discussed how to integrate the three distinct e-bus markets in the country to create a marketplace for reselling buses and batteries.
P4G Global Director Ian de Cruz delivered closing remarks for the session. He emphasized how market-based solutions like ZEBRA present a win-win for everyone in creating new jobs, access to new technology and more investment opportunities for impact. He spoke about the P4G Summit and COP26 as two major moments for the community to innovate together with P4G. He highlighted Latin America as the epicenter of this innovation and invited stakeholders in the e-bus transition to join P4G and deliver impact at speed and scale.