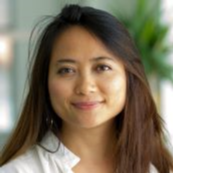 Thanh is a Partnerships Specialist for P4G, the Partnering for Green Growth and Global Goals 2030 Initiative. P4G brings together business, government, and civic organizations to incubate and accelerate innovative public-private partnerships in five key areas: food/agriculture, water, energy, cities, and circular economy. Thanh supports data management and M&E of P4G's partnerships.
Prior to joining P4G, Thanh consulted for the Rights and Resources Initiative, a DC-based NGO advocating for forest land and water rights of indigenous people and local communities around the world. She also has experience working in large-scale energy and agri-food projects in Vietnam.
Thanh holds a BA in Philosophy from Westminster College and an MSc in Sustainable Development from Utrecht University in the Netherlands. For her master's thesis, she conducted and published research on freshwater governance in the Vietnam Mekong Delta. Originally from Vietnam, Thanh has lived in Canada, Ethiopia, and the Netherlands, and is currently living in DC.
In her free time, Thanh enjoys cooking, practicing yoga, traveling, and scuba-diving (when possible).