Raquel Szomstein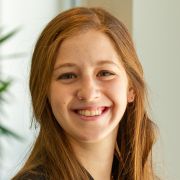 Raquel Szomstein is the Engagement Coordinator for P4G, the Partnering for Green Growth and the Global Goals 2030 initiative. She supports engagement with the P4G network which includes the P4G Board, partner countries, and global organization partners.
Prior to P4G, Raquel worked as an intern at the Women's Opportunities Resource Center in Philadelphia where she assisted programs involved in local economic development. Last summer, she interned in Washington D.C. at the Partnership for Public Service, where as part of the Government Affairs team she worked with stakeholders on issues related to government effectiveness.
Raquel holds a B.A. in Philosophy, Politics, & Economics with a concentration in Globalization and minor in Urban Studies from the University of Pennsylvania. Her studies focused on the intersection of international relations, urban policy, and development. 
Originally from Miami, Raquel has lived in five different cities and is excited to explore Washington D.C.. She enjoys traveling, visiting museums of any kind, and playing with her dog and cats.