The P4G Way
A Purpose-Driven Approach to Partnership Success
by Ian de Cruz
Lead by example. It's a simple concept, but in practice, it's much harder.
What does exemplary leadership look like in a global economy that's driven by competition? How can a person – or an organization – lead by example when, traditionally, the world of business is one of individualism and self-interest?
In my experience, our own personal stories shape our leadership. Stories spark purpose, and purpose drives shared values – critical to a strong mission.
On the largest scale, the world's mission, as outlined by the Global Goals for 2030, demands fundamental changes at all levels of society – changes that, for instance, make healthy and sustainably-sourced food more available for all; that transform our cities into cleaner, healthier places to live and work; that reduce global waste and find new ways to use and re-use what we already have. The speed and scale at which these changes need to happen is immense. As recently as last October, the IPCC reported that, without transformative and collective action, we will begin to see substantial and irreversible consequences of climate change affecting our communities and our environment as soon as 2030 – a timeline much shorter than the world was planning for.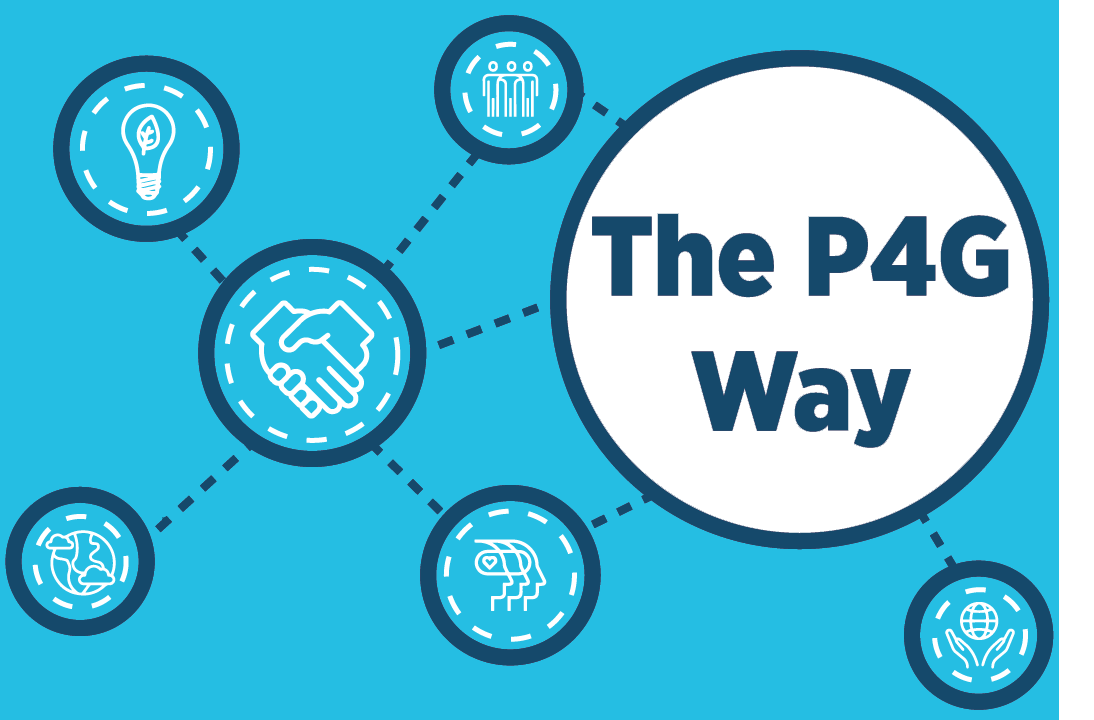 Working in partnership allows the scale of the solution to match the scale of the challenge. And in partnership – across sectors, industries and geographies – either we all win, or we all lose.
I am fortunate to lead P4G, a new initiative which incubates and accelerates partnerships. We have a very clear mission: to be the world's leading forum for developing concrete public-private partnerships at scale to deliver on the Global Goals. With this as our driving purpose, we keep collaboration at the center of all we do.
Already, P4G works with nine countries and six global organizations to support 24 partnerships working across five important Sustainable Development Goals: SDG2 zero hunger/food and agriculture, SDG 6 clean water and sanitation, SDG 7 affordable clean energy, SDG 11 sustainable cities and communities and SDG 12 responsible production and consumption, often called the circular economy. As I meet with the leaders of these governments, businesses and partnerships, I find it critical to pursue story-sharing -- both about ourselves, and about the projects we are working on together. This allows us to quickly understand and trust the people we work with, and to work together quickly and effectively because we empathize with what is at each other's core. Our personal stories define our individual and collective purpose.
My own story is one of immigrants seeking a better life for the next generation. From Portugal to India; China to Malaysia; Singapore to Australia; Australia to the United States, my family crossed the world time and again seeking a better life for themselves and for future generations.
My story and P4G's story are intertwined. Both seek to open better possibilities for all who seek them. A migrant's story at the personal level reflects the partnership and development story that P4G seeks at the global level.
From this foundation, there emerge three key themes that define the P4G Way:
Purpose
Innovation with purpose. It's at the core of the Global Goals and climate agreements across the world. When organizations and countries agree on purpose, they can move past the short-term self-interest to more lasting progress. The key is to forge purpose-driven partnerships. Our approach cannot be linear, individualized or bilateral. We need to do things in fundamentally different ways than we ever have before. We must understand each other's stories and use these to build a collective purpose that guides our attitudes, actions and aspirations.
Hyper-collaboration through trust
Collaboration at speed and scale anchors our ability to work with others whether in our organization, with partners or at a global level. It is fundamental to the emerging success of P4G.  But how do we achieve effective partnership relationships? It starts with mutual respect and trust. If this is established, then hyper-collaboration can flourish. Every individual, and every organization that they lead, must explain their story, purpose and mission. Through the immediate understanding of these core motivators, it becomes easy to co-develop shared values, goals and commitment to persistence, no matter the challenges we face.  This sort of harmony makes hyper-collaboration and instant trust not only possible, but inevitable.  
Acceleration
For P4G, our aim is to accelerate the progress of all our partnerships through the value of our network, funding, strategic support and visibility. The P4G Way allows us to mobilize entire networks into more purposeful action. Every year, P4G selects partnerships that offer the most innovative solutions that can lead models of change that drive sustainable development and green growth. Once we have these partnership cohorts, they begin aggregating almost organically around certain themes. Think: what do these partnerships have in common? Are they working on different approaches to the same challenge? Are they mobilizing parallel networks? When we identify the links between our partnerships – and be reminded that these partnerships have been chosen for their commitment to the values inherent in their origin stories – it's like dropping a pebble in a pond that has a ripple effect of amplification. There's immediate pick up; the crossovers and opportunities become clear. Once we see or prove that a solution is viable at the first level – for instance, the Chilean procurement of electric buses – the P4G Way incites expansion. First, we might see the adoption of electric buses by partner countries in Colombia and Mexico, then by the Pacific Alliance and finally, perhaps throughout Latin America. This is how the P4G Way can accelerate models of change (in this case the electrification of mobility) that can be replicated and scaled across countries, regions and ultimately, the world.
The P4G Way is an approach to implementing our mission with purpose. However, this can only be done when we reveal the personal stories that drive our purpose and mission. Together, we can all "win" if we have the courage to identify the parts of ourselves inherent in our work, and to then find like-minded partners doing the same. I invite you to share your story and join us in this purpose-driven initiative. I look forward to hearing your thoughts. Ian.decruz@p4gpartnerships.org