Michelle Goldenberg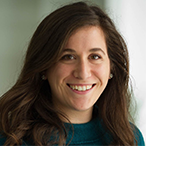 Michelle is the Program Specialist for P4G, the Partnering for Green Growth and the Global Goals of 2030 initiative. P4G brings together business, government, and civic organizations to incubate and accelerate innovative public-private partnerships in five key areas: food/agriculture, water, energy, cities, and circular economy She is responsible for the financial management, compliance, and operational coordination for the P4G team.
Prior to joining P4G, Michelle worked as a Program Officer at the Institute of International Education in Washington DC. She supported their U.S. Agency for International Development program portfolio, including capacity building and training activities for beneficiaries from Egypt, Indonesia, Tanzania, and Vietnam. She also has experience working at the U.S. Department of Education supporting the Office of the General Counsel in the Division of Educational Equity.
She holds a B.A. in Interdisciplinary Studies, with a focus on international development from the University of North Carolina at Asheville.
Originally for North Carolina, Michelle has lived in Washington DC since 2013. She is a baking and cooking enthusiast and enjoys traveling to new places.