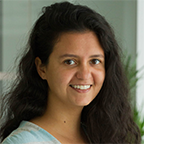 Erin is a Project Coordinator on the P4G (Partnering for Green Growth and the Global Goals 2030) initiative. P4G brings together business, government, and civic organizations to incubate and accelerate innovative public-private partnerships in five key areas: food/agriculture, water, energy, cities, and circular economy. As a project coordinator, Erin supports the operations team with financial management, compliance, and operational coordination for the P4G program.
Prior to joining WRI Erin spent 6 months in Sri Lanka as a LankaCorps Fellow with the Asia Foundation. While there, she worked for Sri Lanka's Institute of Policy Studies researching agriculture in Sri Lanka and facilitating farmer trainings on sustainable agriculture techniques. She also has experience working for the Alliance to End Hunger, a national anti-hunger organization, on capacity building projects and anti-hunger advocacy. In college, Erin worked as an intern for ActionAid USA on research and advocacy related to international land rights and agriculture.
Erin holds a B.S. in Culture and Politics from Georgetown University's School of Foreign Service (SFS) in Washington D.C.
Erin loves to see live music in DC & swim in the ocean whenever she gets the chance.